Accueil »
Scilicet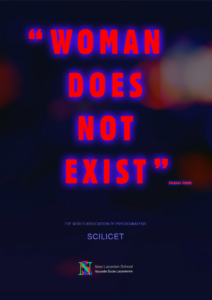 "Woman does not exist." This proposition of Lacan's is the theme and title of the International Congress of the World Association of Psychoanalysis (WAP) – a Congress held in 2022 in the form of the WAP's Great International Online Conversation.
Psychoanalysis and women are linked. It was indeed first with women, in the "mouths of gold" of the hysterics he studied, that Freud discovered the unconscious. Years later, in his last teaching, Lacan approached feminine jouissance through paths of logic – it is moreover at this moment that he stated: "Woman does not exist." What does this mean, if not primarily that women only exist one by one, that they are eminently singular, and that it is thus impossible to give a definition of Woman that would be valid for all women?
For Lacanian psychoanalysts, the challenge of such a theme is threefold: first, to assert their orientation based on Lacan's teaching; second, to give an account of their clinical practice with women and what they have learned from it; and third, to situate themselves in the contemporary world in order to interpret it, at a time when women are taking on a renewed role.
Ninth volume in the Scilicet series – Scilicet, which literally means "You can know" and whose title is taken from a journal created by Lacan – this preparatory volume for the WAP's Great International Online Conversation includes more than one hundred and ten contributions from psychoanalysts around the world. Each of them sheds light on the issues at stake in Lacan's proposition, "Woman does not exist." And at the opening of this volume, a text by Jacques-Alain Miller, "Of Semblants in the Relation Between Sexes," provides an orientation.
Introduction 12 "The Smallest Woman in the World" Angelina Harari Overture 15 Of Semblants in the Relation Between Sexes Jacques-Alain Miller Argument 25 Woman Does… Read More »Scilicet Volume – Contents